Fertilization & Weed Control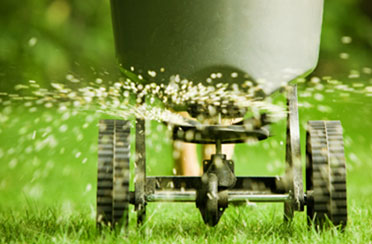 An essential task all homeowners should engage in when it comes to lawn care and landscaping is fertilization and weed control all year long. This activity can be included in both lawn maintenance programs and landscaping ones as it provides the property with the necessary and fundamental requisites helping everything green to grow healthy and beautiful.
One of the problems with fertilization and weed control as DIY projects is that they usually are trial-and-miss experiments. Homeowners have some basic knowledge about fertilizers and weeds and they try to apply such treatments on their properties in the lack of proper know-how and skills. Did you know that some fertilizers shouldn't be applied in summer as they can burn the soil and damage a lawn completely? Did you know that some weeds are so resilient they need constant control? Such details are what make or break a lawn and landscape, not to mention that everything on your property, from grasses to insects, may suffer dire consequences due to the chemicals used.
Our company is a licensed and certified fertilization and weed control contractor able to provide you with year-round tailored interventions. We offer soil assessments and make a thorough analysis of the micro-ecosystem thriving on your property before implementing our specialized weed control program. While understanding your soil's chemical makeup and pH, we also identify its fertilization needs. We factor in the weather conditions, the environmental requirements of your area and the meteorological challenges you have to deal with all year long. The next step is the vegetation assessment – as some plants are more vulnerable to weeds than others, also considering the presence of insects and wildlife able to propagate the spreading of weeds.
After everything is correctly placed in the equation, we begin our year-round weeding and fertilization program aiming to keep the vegetation thriving while weeds are frequently deterred. Our program uses eco-friendly substances and tailored treatments so your children and pets are also kept safe. Some beneficial insects and plants, together with vegetables or wild life are vulnerable to some chemicals; this is why we offer personalized interventions.
Our program also contains follow-up steps: after we applied certain treatments we come back just to see how things evolve. If necessary, we adjust our interventions to ensure the health and thriving of your landscape. As you know, one of our landscaping services also includes the installation of mulch. This organic material also has a fertilization and weed control value – as we said, everything is connected and one lawn care task positively impacts another landscaping activity.
Don't risk the health of your lawn or endanger the well being of your family and pets by using store-bought chemicals you don't know how to mix and apply. Instead, let our highly trained and licensed professionals take care of everything for you! Ask for a free estimate and enjoy your lush yard and garden risk free!