Landscaping Services in Altoona
One of the most exhausting, costly, and annoying things a homeowner has to go through is finding and contracting multiple landscaping companies for different jobs on the same property. Did you ever want to employ landscapers for design only to learn they do not install, change, or build the elements they suggest in the plan? Have you ever stumbled upon landscaping contractors who delivered half the services you needed, so you had to hire a different team to get the job done? Well, if you are tired of half measures and incomplete assignments, let's see what our landscaping company in Altoona, IA, has to offer!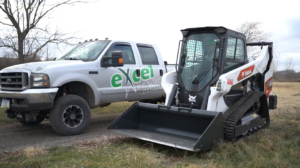 Integrated and Complete Landscaping Services in Altoona, IA?
You most likely need a team to design a new landscape, and the same for hardscaping, irrigation installations, ponds, patios, and softscape elements installation. On the other hand, you need the same team to offer seasonal landscape maintenance in Altoona, IA, together with connected services that aim to protect and enhance your property. So here is what our experts can do for you!
New landscape design and architecture.
Landscape upgrades, including (but not limited to) pavers, edges, ponds, patios, new vegetal elements, retaining walls, underground gutter spouts, etc.
Landscape repairs and renovations.
Landscape maintenance, including regular landscape clean-ups and landscape maintenance seasonal services, lawn care, dethatching, weed control, aeration, pest control, snow removal, and more.
No matter the size of your property, we adapt all our interventions to meet the current needs. All our work aims to boost the property's true growth potential and curb appeal.
Why Should You Choose Our Integrated Landscaping Services in Altoona, IA?
Excel Lawn & Landscape is a professional landscaping contractor in Altoona, IA, having more than ten years of experience and an unparalleled reputation in the community. We are your one-stop-shop for all your landscaping needs in the area! Here are some more reasons why you should hire us:
We only work with a professional team of skilled experts and hi-tech equipment & tools.
As a landscaping contractor in Altoona, IA, we take pride in our A+ rating with the Better Business Bureau of Greater Iowa.
Our work comes with a satisfaction guarantee: if you are not 100% satisfied with our work, we will go back and do it again for free!
How Can You Benefit from Our Landscaping Services in Altoona, IA?
Give us a call or send us an email to receive a free estimate! Our experts in landscaping in Altoona, IA, will be more than happy to deliver you outstanding projects and services!