Lawn Care in Altoona, IA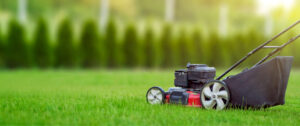 As fun as it is to mow your lawn or plant a few roses and other gorgeous plants, lawn care is much more than this. All the elements on your property coexist – or should – in harmony and perfect balance. If the soil does not have enough nutrients, the effects will show everywhere. The same goes for a pest attack that can damage everything from the lawn to your trees. Insufficient soil aeration and dethatching can be devastating for the entire property, no matter how resilient you think your plants are. You get the idea. Our experts in lawn care in Altoona, IA, are here to offer you an alternative: integrated, coordinated lawn maintenance to boost your yard's health and looks.
What Services Related to Lawn Care in Altoona, IA Can We Provide for You?
Before discussing the range of one-time services or year-long lawn maintenance programs, you should know the following things about us.
We have proven experience and expertise, the skills, education, and training in lawn maintenance, landscaping, pesticide and chemical applications, Iowa State's dealer nursery license, etc. Our company holds an affiliation with the Better Business Bureau of Greater Iowa, currently holding an A+ rating. The experts in lawn care in Altoona, IA, implement tailored programs and solutions to meet the soil's pH and its fertilization needs, local weather conditions, environmental conditions, and more.
Now that you learned a few things about us, here are the services we provide, no matter the size of your yard or the complexity of your project. Remember that you can call us for one-time assistance or yearly lawn maintenance programs designed to boost your yard's health and thriving.
Lawn mowing, dethatching or power-raking, aeration, etc.
Soil testing
Seeding or sod installations
Tree and bush maintenance
Perimeter pest control
Regular yard clean-ups
Irrigation systems installations
Snow removal
Landscaping design, building, and maintenance.
You have to know that when we suggest and implement a yearly program including lawn care and lawn maintenance in Altoona, IA, we take care of everything – soil, grasses, vegetation, etc. We will not let any detail escape us!
Why Should You Work with Our Company for Lawn Care in Altoona, IA?
Besides implementing fully cohesive lawn care services in Altoona, IA, we also provide you with a risk-free offer. If some of our work does not satisfy you completely, we will come back and redo the job for free, no stress, no questions asked!