Landscaping in Ankeny IA
Did you find yourself admiring with a bit of sadness and some envy of other peoples' astonishing landscapes? How about those landscapes in the magazines, with their neat patios, perfect ponds, professional pavers, edges, and retaining walls? If you sigh at the sight of a professional-looking landscape and think you will never have the money to afford such a masterpiece, we are here to convince you otherwise! You can get startling hardscape elements to upgrade your property and boost about its looks, comfort, and curb appeal! All you have to do is get Excel Lawn and Landscape, the best landscaper in Ankeny, IA!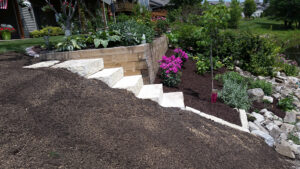 What Can Our Landscaping Company in Ankeny, IA do for you?
To build hardscapes, fix & upgrade the existing ones, or add new elements to a current design, you need a professional company to manage things from A to Z.
As a landscaping contractor in Ankeny, IA, our company has over a decade of experience and an A+ rating with the Greater Iowa BBB. If hardscape elements are your focus, here is what we do:
Evaluate your outdoor space to develop a full image of your property needs and add your ideas, goals, budget, and project schedule into the mix to create a comprehensive action plan.
Bring in our expert hardscape and landscape architects in Ankeny, IA, to come up with the design.
Once we agree with the plan, we start working.
See below the hardscape elements we can build and install on your property:
Pavers/Edging
Rock installations
Retaining walls
Patios
Ponds and other water features
Excel Lawn and Landscape provides landscaping in Ankeny, IA, so we can help you with plant and other vegetal installations to spruce up your landscape and inject new height, shade, color, contrast, texture, and scent to it.
Why Should You Work with Us for Your Landscaping in Ankeny?
Designing and building/installing hardscape elements require knowledge, skills, and commercial or industrial-grade tools. We have a structural engineering background, the proper equipment, and the right specialists to provide you outstanding services. Moreover, we guarantee our work and results. If you are not happy with your new pond, retaining walls, or walkways, you can call us back. We will re-do the job for free, no questions asked. Finally, you can enjoy our skills all year long, as we also offer expert landscape maintenance in Ankeny, IA, together with lawn care, fertilization and weed control, pest control, snow removal, and more!
Contact us today for a free estimate, and we promise you will have magazine cover-worthy hardscapes at affordable prices!