Lawn Care in Ankeny, IA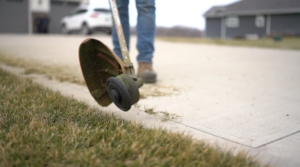 Lawn care and maintenance can be fun most of the time, but all the activities involve hard work, stress, time, effort, and plenty of risks. As a seasoned homeowner, you probably had your fair share of disappointments with a new type of grass, pest control strategies, proper tree & shrub management, etc. Why spend an enormous effort with hit-and-miss experiments and risky procedures when you can hire a competent lawn care company in Ankeny, IA, to take care of things for you? Let's see what our experts have to say!
What Do We Mean by Risk-Free Lawn Care in Ankeny, IA?
Our company has been around for more than ten years, gaining certified knowledge and experience in horticulture, pesticide and lawn treatment applications, landscape architecture, and so on. When you call Excel Lawn and Landscape technicians for lawn care in Ankeny, IA, this is what you should expect.
Soil testing to assess the soil's pH, fertilization needs, problems to correct, drainage, chemical imbalances, etc.
Developing a working plan that considers all the elements affecting your lawn's health and beauty: soil, turf grasses, vegetation/plants, irrigation, pests, weeds, weather conditions, other environmental factors, sun/shade ratio, etc.
Once we understand what your yard needs, we will implement tailored lawn maintenance services in Ankeny, IA, that will solve the problems instead of creating new ones.
No matter how large or small your property is, our technicians will ensure your lawn thrives every month.
For all our services – either one-time or regular – we offer an ironclad warranty. If you are not pleased with our results, we will come back and redo the job; no questions asked, no money involved!
Why Else Should You Choose Us for Lawn Maintenance in Ankeny, IA?
As we said before, we are a one-stop-shop for all your landscape maintenance services and lawn care in Ankeny, IA. Our company is an A+ rated organization with the Better Business Bureau of Greater Iowa. You will discover that we rank in the top 18% of all contractors in the state of Iowa, according to BuildZoom and our growing pool of customers have nothing but good things to say about us. Are there other reasons why you should work with us?
We offer a full range of lawn care services in Ankeny, IA, from lawn mowing to fertilization, pest control, yard cleanups, snow removal, and more!
You can contact us anytime for a free estimate!
Do you want spectacular and risk-free lawn care in Ankeny, IA, this year? Contact us now!