Lawn Care in Carlisle IA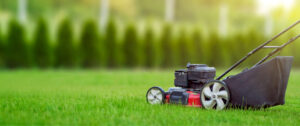 Do you ever look at Internet photos of other peoples' yards and wish that you owned a picture-perfect landscape as well? Do you ever wonder who created such award-worthy yards are and how much money the owners spent to achieve such splendors? And, do you sometimes look at your lawn and yard, feeling that it needed some oomph? If you recognize yourself in this presentation, then you are in luck: our company of lawn care in Carlisle, IA, is the best in the area to give your lawn that extra buzz of health and beauty you so seek. The best part? You don't need to pay a hefty budget to enjoy an excellent, prosperous, and striking lawn this year. You just need to contact us!
Who Are We and What Can We Do Regarding Lawn Care in Carlisle, IA?
We have been an active part of this community, and we know owners in the area don't settle for anything less than perfect. It is why we tailor and customize each project of lawn care or lawn maintenance in Carlisle, IA. Our goal is for you to relish a healthy, luxurious lawn with no financial stress.   If you ask us for a free estimate on lawn care services in Carlisle, IA, this year, you should know a few things about how we operate:
We first do a full property valuation, highlighting the property's strengths and weaknesses. We test the soil, check the turf for weeds and pests, verify the plants, trees, shrubs, etc., for diseases or other threats, inspect your irrigation installation, etc.
Our experts in lawn care in Carlisle, IA, will return to you with a concrete proposal including recommended short/long term lawn maintenance tasks, applications, pest/insect/wildlife control programs, fertilization, etc.
When you agree to our recommendations, proceed to work on your property upon a mutually agreed schedule.
What Affordable Lawn Care Services in Carlisle, IA Can You Enjoy?
Remember that we present here just a short "menu" of lawn care services in Carlisle, IA, that you can enjoy. So here are some of them:
Regular mowing, irrigation, lawn inspections, yard cleanups, aeration, dethatching, vegetation maintenance;
Seasonal fertilization and weed control;
Insect control, chemical applications, and pesticide programs to remove insects and other pests;
Perimeter pest control and wildlife control, etc.
You should know that we offer long-term lawn care in Carlisle, IA, including weekly, seasonal, and yearly yard maintenance services. You get affordable and risk-free activities at all times! Call us to redo a job if you are not 100% happy with it!