Lawn Treatments in Carlisle, IA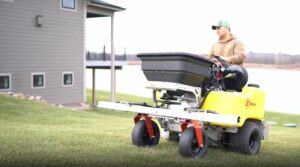 A dense, lush, green lawn safe from weeds or pets is a sign of beauty and passion for all things green. Flowerbeds without any sign of invaders are the envy of the neighborhood. However, protecting the turf and yard, feeding the soil to strengthen the roots' system, and implementing regular safe lawn treatments in Carlisle, IA is not an easy feat. You need to consider every little detail regarding the soil's pH, vegetation types, weather, etc. In other words, it takes hard work, money, and plenty of experiments. Instead of trying all sorts of things that don't work, why don't you hire professional lawn treatments in Carlisle, IA?
State-of-the-Art Lawn Treatments in Carlisle, IA
We are a top lawn care company operating in Iowa for more than a decade. Our services include soil assessments, vegetation evaluations, lawn fertilization, pre-emergent, and post-emergent weed control, tree & shrub fertilization, and more. Excel Lawn and Landscape has been a licensed and certified fertilization and weed control contractor for over a decade. Today, we are the most reliable landscape companies in Carlisle, IA, providing our clients with a wide range of hardscape design & installations, lawn care, and lawn treatments, among others. Here is what we can do for you:
Regular soil and vegetation assessments.
Use of commercial-grade lawn fertilizing solutions to strengthen your lawn and plants against weed attacks.
Follow up sessions after each application to make all the necessary adjustments.
Mulch applications for safer, more organic lawn treatments in Carlisle, IA.
A safe, eco-friendly program with substances and tailored treatments, so your children and pets are out of harm's way.
Why Should You Choose Our Lawn Treatments in Carlisle, IA?
All our clients rely on us to build a sustainable, thriving landscape, and gorgeous flowerbeds that lack any trace of weeds. Remember that we back up all our lawn treatments in Carlisle, IA, with a matchless warranty policy: if you are not pleased with the results, we will return and redo the interventions for free! But let's see other reasons why our customers chose us over the competition!
We are licensed in pesticide and chemical applications, hold a state of Iowa dealer nursery license, and an A+ rating with the state's Better Business Bureau.
You will enjoy competitive prices and consistent scheduling.
Licensed and insurance-covered professionals provide all the interventions.
Contact our lawn treatments company in Carlisle, IA, for a free quote! We guarantee the best results for your landscape!