Landscaping in Des Moines IA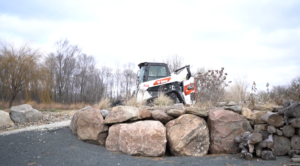 Landscaping means more than pruning trees and catering to your gorgeous flowerbeds. Besides landscaping maintenance, homeowners also need landscape repair and renovations, hardscapes building, new outdoor structures, and irrigation systems installations. When it comes to mowing your lawn or caring for your ornamentals, it is a real pleasure to perform such activities yourself. However, if you want professional landscaping in Des Moines, IA, you need to call an expert service provider to guarantee results! So let our technicians tell you what they can do for your property this year!
What Landscaping Services Can We Provide in Des Moines, IA?
Excel Lawn & Landscape is an A+ landscaping contractor in Des Moines, IA. With over a decade of experience in a broad range of landscape architecture, building, and maintenance services, we guarantee that you will be 100% satisfied with our work. Here is what we can do for you:
Plant and bush installations to upgrade your landscape and boost your property's curb appeal.
Edging and paver installations.
Building retaining walls.
Rock/mulch installations.
Building patios.
Adding ponds and water features to your landscape.
You can rely on our experts for integrated services for landscaping in Des Moines, IA, including, but not limited to desert scaping projects, irrigation installations maintenance, regular landscape clean-ups and landscape maintenance seasonal services, lawn care and maintenance, snow removal, and more!
Why Should You Hire Our Landscaping Company in Des Moines, IA?
As we said, we have over ten years of impeccable reputation and outstanding service for landscaping in Des Moines, IA. We also carry an Iowa state's dealer nursery license and have authorization for pesticide and chemical applications. But here are other reasons why you should work with us:
Before we restore your landscape, build you a new one, or add new elements to an existing one, we will come up with a plan that considers your property needs, your wishes, and our specialists' expertise.
We are pros at structural engineering, so hardscaping is going to be a breeze if you work with us.
Our team uses commercial and industrial-grade equipment, the latest technologies, and only trained professionals for big or small projects.
How Can You Get our Services for Landscaping in Des Moines, IA?
All you have to do is request a free estimate, and we'll take it from there! We promise that you will be delighted with our services! If you do not feel 100% happy with our work, we will send our team to fix the problem immediately, no questions asked!