Lawn Care in Des Moines, IA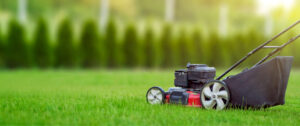 New and veteran homeowners know that some lawn care activities are easy and fun, while others require professional assistance and interventions. When it comes to tailored lawn care in Des Moines, IA, to suit your property's needs and thriving potential, you cannot get better services than ours! Excel Lawn and Landscape has over ten years of experience in the industry and can offer you one-time lawn care or lawn maintenance seasonal services. But let's hear what our experts in lawn maintenance in Des Moines, IA have to say!
What Lawn Care Services in Des Moines, IA Can We Provide?
Regardless of your property's size or your project's complexity, we offer all our clients cohesive and consistent lawn care services throughout the year. Here are some of the most popular tasks our clients ask for their properties:
Mowing (one time or seasonal schedule)
Soil aeration
Dethatching or power-raking
Overseeding or sod installations
Tree and bush maintenance
Perimeter pest control
Mole control
Pre-emergent weed control
Fertilization and weed control applications for soil amending/fixing, pest control, pH, etc.
Regular yard cleaning
Organic lawn treatments
Landscape repairs and renovations
Snow removal in the cold season
Mulch installations
As you can see, we can cover everything regarding lawn care and landscape maintenance in Des Moines, IA. Instead of fighting off weeds alone or experimenting with different store-bought pesticides, call our team to deliver fast, easy, and affordable lawn care, maintenance, and more!
Why Should You Work with Our Company for Your Lawn Care in Des Moines, IA?
You can verify our credentials and talk to our customers for reviews, and we encourage you to do so. However, let us give you a few more reasons why you should choose our company:
All our experts have training, know-how & licenses/certifications in gardening, agriculture, structural engineering, landscape architecture and construction, safe, organic lawn treatments, and heavy machinery operations.
We are affiliated with the Better Business Bureau of Greater Iowa and currently hold an A+ rating.
According to BuildZoom, we rank in the top 18% of all landscape and lawn care contractors in Iowa State.
We guarantee the best results, no matter how large or property is or what services you want us to provide. If you are displeased for any reason with our work, call us back, and we will do the job for free until you are 100% satisfied!
Do you want effortless and affordable lawn care in Des Moines, IA? Contact us now for a free estimate and let our experts turn your lawn into a stunning corner of paradise!