Lawn Treatments in Des Moines IA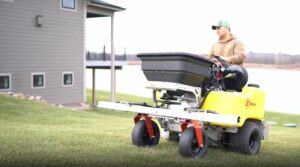 We know all homeowners have plenty of things to take care of throughout the year, especially when it comes to yard maintenance, weed control, fertilization, and other landscaping issues. Most of our clients enjoy mowing their lawns once in a while. Moreover, caring for their lovely flowerbeds and gardens is always a pleasure for those with a green thumb. However, as we said, some lawn care activities – particularly lawn fertilization and weed control – entail all-encompassing knowledge, skills, time, effort, and a hefty budget. Why don't you try something else this year? If you want expert lawn treatments in Des Moines, IA, we have an offer you cannot refuse!
Specialized Lawn Treatments in Des Moines, IA
Excel Lawn & Landscape is an A+ landscaping contractor in Des Moines, IA. With over 10 years of experience in a broad area of yard services ranging from landscape architecture to snow removal, we guarantee that you will be 100% satisfied with our work. When it comes to lawn treatments in Des Moines, IA, here is what we can do for your property this year:
Authorized to spray pesticides and herbicides applications to keep weeds and pests away from your lawn, vegetable garden, flowerbeds, and ornamentals.
Soil and vegetation evaluations to understand their issues and needs.
Science-based fertilization programs and tailored weed interventions.
Mulch installations for both aesthetic and nourishment purposes.
One-time crabgrass control, for instance, or year-long seasonal lawn treatments in Des Moines, IA, to ensure the healthy development of everything green on your property.
Why Should You Choose Our Lawn Treatments in Des Moines, IA?
Whether you want an intermittent lawn fertilization service or a full-length yard maintenance program, our technicians will deliver you excellent results. You can rely on us for much more than just lawn treatments in Des Moines, IA. We are certified providers of lawn soil aeration, pest control, tree & shrub care, landscape design, building, snow removal, etc. But let's see other benefits of choosing our lawn treatments in Des Moines, IA:
Reliable service schedules with no delays and timely notices in case something happens.
Low prices and hassle-free billing systems.
A full-service landscaping contractor can provide you with anything your property requires, from early spring to late winter.
Licensed and certified professionals ready to help you 24/7.
A company insurance policy to cover all our technicians and your property and keep everything & everybody safe.
Contact our lawn treatments company in Des Moines, IA, and ask for weed control and fertilization quote! We can't wait to be of service this year!