Landscaping in Norwalk, IA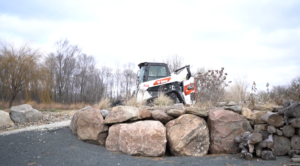 Most gorgeous landscapes you see online – and wish you also owned – usually feature ponds, water elements, fountains, and so on. If you always wondered how difficult or costly it was to upgrade your landscape with such features, the answer is simple. You only have to find the right landscape company in Norwalk, IA, to design and build you a gorgeous paradise corner with a pond and a serene natural ecosystem. For the most beautiful – and affordable – pond and other water elements, you need to get our landscaping contractor in Norwalk, IA! Let's see what our team can do for you!
Why Should You Choose Us for Ponds Installations in Norwalk, IA?
Excel Lawn and Landscape have over a decade of experience in landscaping – both design and installations. With a background in landscape architecture and structural engineering, we are your go-to choice when it comes to water features. Here is what our experts in landscaping in Norwalk, IA, can do for you:
We visit you and take the time to get to know you and your space; either you want to build a landscape on barren land or revamp a current outdoor setting, we want to get the full picture and details.
Our landscape architects in Norwalk, IA, will then computer design your landscape, including your wishes, ideas, budget, schedule, etc.
As ponds go, we will choose the perfect spot on the property, whether you wish to turn the pond area into a serene retreat, a modern, trendy outdoor space for socialization, or an all-natural ecosystem to entertain wildlife.
We will design and build your pond/water features, so they blend in perfectly with your current landscape's style and design.
Do not hesitate to breathe new life and looks into your property! Our expert landscaping in Norwalk, IA, will make sure you will enjoy a relaxing and scenic landscape feature in no time!
Why Else Should You Work with Our Landscaping Company in Norwalk, IA?
First, you have to know that we offer an unbeatable warranty to all our landscaping services in Norwalk, IA: come back and redo the job for free – no questions asked – if you are not satisfied with our results.
Secondly, we are an A+ rated company with the Better Business Bureau of Greater Iowa and have a solid reputation among our clients and peers.
Third, you can contact us for a free estimate no matter what landscaping services in Norwalk, IA, you need! No project is too big or small for us!