Lawn Treatments in Norwalk IA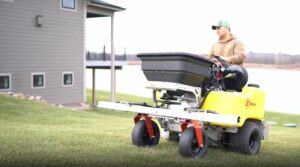 The most beautiful landscapes you admire and wish you owned stand out from the crowd because they somehow exude health. Beyond landscape elements like fancy hardscapes, ponds, or fireplaces, the foundation of a gorgeous landscape is its underlying health. It is all about weed-free flowerbeds, dense green lawns, well-nourished ornamentals, and so on. For this to occur on your property, you only have to find the right contractor in Norwalk, IA, to provide you with professional, tailored lawn interventions. For the most efficient and affordable lawn treatments in Norwalk, IA, call our company now!
Customized Lawn Treatments in Norwalk, IA
Besides their efficiency and sustainability, our lawn treatments in Norwalk, IA, are also completely risk-free. We don't mean that only in connection to the environment, although all our treatments are safe for people, pets, and the micro-ecosystem living on your property. We mean that you automatically benefit from our ironclad warranty policy that has us re-apply any treatment for free if you were not happy with our initial results. But let's see what our lawn treatments company in Norwalk, IA, can do for you!
Certified applications to deter weeds and pests;
Tailored soil nutrients meant to strengthen the roots' systems and gain resilience against all threats throughout the year;
Soil and vegetation assessments to recognize their issues and needs for personalized interventions;
Certified mulch installations;
Singular or seasonal pre-emergent crabgrass control, post-emergent weed control, and other necessary lawn treatments in Norwalk, IA.
You should know that our company's technicians carry licenses in pesticide and chemical applications, a state of Iowa dealer nursery license, and all the insurance policies necessary for your peace of mind.
Why Should You Choose Our Lawn Treatments in Norwalk, IA?
Our clients count on us for much more than just occasional lawn treatments in Norwalk, IA. You can call us for professional lawn care and landscaping services, including but not limited to lawn soil aeration, pest control, tree & shrub care, landscaping, snow removal, and more. Do you want know more about the benefits of working with us? Here they are!
Consistent service scheduling with notifications regarding delays and impeccable customer support;
A one-stop-shop for all your property needs, no matter their complexity.
Affordable prices and guaranteed results.
Our company is proud to deliver to all its clients the most efficient lawn treatments in Norwalk, IA! If you want to convince yourself of our unparalleled results, just get in touch for a free quote and let us astonish you with our skills and competence!