Lawn Treatments in Pleasant Hill, IA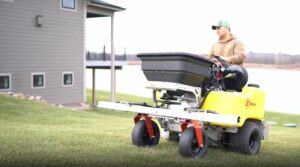 The best lawn care you can offer your property every year should always focus on the soil's chemical balance, pH, and nutrition, the grasses you grow, and the weeds, pests, and diseases threatening your landscape every season. And while all homeowners do their best for their yards and landscapes, not all of them have the knowledge and expertise to engage in effective and risk-free lawn treatments. If you want to make some changes in your approach to fertilization and weed control, we are here to help! Our experts at Excel Lawn and Landscapes tailor all their interventions to meet your lawn's needs. If you want special lawn treatments in Pleasant Hill, IA, let's see what our professionals can do for you!
Above-Standard Lawn Treatments in Pleasant Hill, IA
Whether you need a one-time crabgrass intervention or yearlong fertilization, pest & weed control programs, you can rely on us any time! Contact our lawn fertilizer company for lawn treatments in Pleasant Hill, IA; you should know that we deliver some of the fastest and most efficient lawn treatments in Iowa! Do you want to learn more about what you should expect?
We first inspect the lawn (soil, grasses, flowerbeds, etc.) and make a plan;
Our technicians will implement a tailored lawn treatments program based on commercial-grade lawn fertilizers to strengthen your lawn and plants against weed and pest attacks.
Mulch installations combined with chemical applications to ensure your lawn, flowerbeds, and plants get the best and safest treatments throughout the year.
You will see results in no time – we guarantee our lawn treatments' efficiency and your satisfaction with our 100% satisfaction warranty;
All our interventions come at affordable prices and transparent billing systems!
Our true-and-tested lawn treatments program in Pleasant Hill, IA, comes with a scientific foundation, showing you can enjoy a thriving landscape all year without overusing chemicals.
Why Should You Choose Our Lawn Treatments in Pleasant Hill, IA?
Don't risk the health of your lawn or endanger the safety of your family by using one-size-fits-all chemicals you don't know how to blend or apply. Instead, let our highly trained and licensed professionals take care of everything for you!
We come with a Better Business Bureau of Greater Iowa A+ rating.
Our company holds a state of Iowa dealer nursery license.
Our insurance policies will protect your property and assets from any harm or accident.
If you want fast, efficient, and safe lawn treatments in Pleasant Hill, IA, at competitive prices, all you have to do is get in touch via email or phone!