Landscaping in Waukee, IA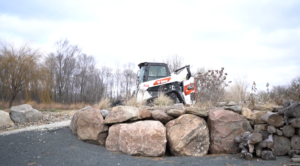 Do you know those TV shows where rich people buy houses, renovate them, and resell them for high-profit margins? It is common practice for real estate companies and brokers who can close fabulous deals. However, for the regular homeowner who wants to sell a property at the correct price, such investments seem surreal. On the other hand, everybody knows that boosting your property's curb appeal with well-thought and professionally delivered landscaping services is the way to go when you prepare to put the house on the market. But can you afford landscape upgrades to gain leverage on the real estate market?  Our experts in landscaping in Waukee, IA, say you can!
Elevate Your Landscaping in Waukee, IA to Boost Your Property's Curb Appeal
Our lawn care and landscaping company – Excel Lawn and Landscape – has a Better Business Bureau of Greater Iowa A+ rating. We provide professional services like landscaping in Waukee, IA, for over ten years and have managed to achieve outstanding results for all our clients. Here are some of the best, efficient, and affordable projects and services we can implement on your property to upgrade it for real estate purposes:
Lawn care and maintenance: we can implement a program to cover mowing, fertilization and weed control, chemical applications and pesticides, dethatching, aeration, and more.
Rock and mulch installations for aesthetic and functional purposes (protection, nourishment, etc.).
Plant, bush, and other vegetal elements' installations – we add plants and ornamentals to add scent, color, contrast, texture, shade, movement, etc.
Pond installations to turn your property into a modern, trendy and exquisite real estate gem.
Landscape repair and renovation projects to fix the broken elements/parts in your yard – from lawn repairs and soil amendments to hardscape repairs and upgrades.
All such activities are affordable and easy to implement to generate the desired effects.
Why Else Should You Hire Us for Landscaping in Waukee, IA?
Besides our expertise and reputation in the community, here are some other reasons why you should work with us for all your lawn care and landscaping services in Waukee, IA:
We are proficient in structural engineering and hardscaping, so we can design and build for you paver edging, patios, ponds and water features, and more;
Our company delivers guaranteed results: if you are not 100% happy with the outcome, we come back and redo the job for free!
Contact us for a free estimate and let us boost your property curb appeal with affordable and reliable landscaping services in Waukee, IA!