Lawn Care in Waukee, IA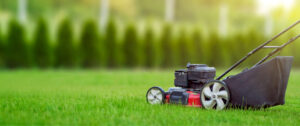 All owners want their yards to look like picture-perfect landscapes worthy of a feature in magazines. They all desire their properties to become the "Wow" factors in their neighborhood. Spring is the best time to start working on your lawn to give it a boost to lush and healthy growth all year long. Our lawn care services in Waukee, IA, represent the place to start upgrading and maintaining your yard until it becomes the best looking one in the area. We can do more than revamp it; we can enhance it and manage it to turn your outdoor space into a luxurious patch of Heaven. But let's see what Excel Lawn and Landscape is and what our technicians do for you this spring!
What Should You Know About Our Service of Lawn Care in Waukee, IA?
We have been champions of lawn care in Waukee, IA, for more than ten years. We remain locally operated and committed to offering our customers the utmost respect, care, and attention. From us, you can expect individualized and custom-tailored lawn care in Waukee, IA. We cover all your lawn maintenance services needs from A to Z, together with professional landscape services too. So, here is what we offer:
Licensed and certified professionals in pesticides and lawn treatments, lawn management, vegetation maintenance, horticulture, agriculture, landscape design and installation, engineering, etc.
Free estimates and tailored pricing plans to meet your needs but exceed your expectations.
An excellent reputation in the state, both with authorities and customers. We hold an A+ ranking with the B.B.B. of Greater Iowa. According to BuildZoom, we are among the top 18% of all lawn care and landscaping contractors in Iowa.
Dependability, reliability, and respect for your property.
The best warranty for lawn care in Avon Lake, IA: a full redoing of a job if you are not happy with the initial results!
What Spring Lawn Care Services in Waukee, IA, Can We Provide?
We can tailor a lawn care project to boost your property's look and health that we can expand throughout the year to promote and maintain its lush, vigorous growth. From soil testing and lawn mowing to customized fertilization, weed control, pest control, and vegetation maintenance, you can count on us for anything!
Besides spring activities, we can also offer a personalized all-year-long landscape maintenance program to cover all your needs and wishes. Contact our experts in lawn care in Waukee, IA, put them to work, and enjoy your "WOW" lawn all year long!