Lawn Treatments in Waukee IA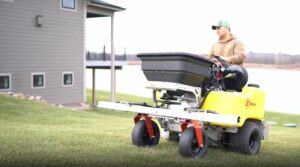 If you hear anyone telling you that all lawns are the same and you should not bother with personalized treatments, it would be best if you didn't listen to them. The one-size-fits-all paradigm is long gone from the midst of professionals. Do you admire some of your neighbor's landscapes while other properties look like something extracted from a horror flick?  Professional and customized lawn interventions are the backbone of this difference. Our experts in lawn treatments in Waukee, IA, can provide you with customized services to create and maintain a deluxe back yard or front lawn you can enjoy together with family and friends. But let's learn more, shall we?
Personalized Lawn Treatments in Waukee, IA
Do you want to have the most beautiful property in the neighborhood? Then let Excel Lawn and Landscape apply its proprietary customized lawn treatments in Waukee, IA, to turn your property into a spot of Heaven! Over the years, we built a strong reputation in the area. It brought us an A+ rating with the Better Business Bureau of Greater Iowa and excellent customer reviews. We carry licenses and certifications in various fields (pesticide and chemical applications, soft and hard landscape design and installations, engineering, etc.). Today, we are here to tell you what we can do for you when it comes to fertilization and weed control!
Soil tests and turf/vegetation checkups to understand your lawn's strengths, vulnerabilities, and requirements.
Application of science-based lawn treatment programs and tailored interventions that match your landscape's needs and features.
Long-term customized lawn fertilization, weed control, and insect/pest/wildlife control programs to ensure that your lawn thrives no matter the weather, threats, or environmental conditions.
Follow up sessions after each application to make all the necessary adjustments depending on your lawn's requirements.
Mulch applications for safer, more organic lawn treatments.
Why Should You Choose Our Lawn Treatments in Waukee, IA?
Besides enjoying some of the most efficient and dependable lawn treatments in the area, you will get other benefits if you choose to work with our company:
Affordable prices, no-nonsense billing policies, and top-notch customer support;
We have insurance to protect your property and assets from any possible risk;
All our lawn treatments in Waukee, IA, come with our 100% satisfaction guarantee, just like our other lawn care and landscaping services!
We say that you put us to the test instead of taking our word for it. Get our customized lawn treatments in Waukee, IA, and enjoy a thriving, lush lawn and landscape in no time!