Landscaping in Windsor Heights IA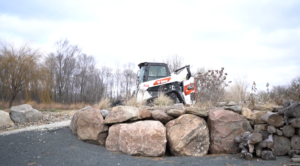 When you need retaining walls on your property to restrain the soil or add beauty and function to your landscape, you need a team of experts to take care of things. While you can engage in plenty of lawn care and landscape maintenance activities throughout the seasons, you should better leave the job in the hands of trained architects and engineers when it comes to hardscapes. Our landscaping company in Windsor Heights, IA, has more than ten years of experience in landscape design – softscapes and hardscapes –, landscape maintenance, and more! Let's see what we can do for you this year!
What Recommends our Landscaping Company in Windsor Heights, IA for Hardscape Projects?
With an A+ rating with the Better Business Bureau of Greater Iowa and a decade of successful projects in our portfolio, Excel Lawn and Landscape is your go-to choice for landscaping in Windsor Heights for designing, installing, and maintaining all hardscape elements, not only retaining walls. Here are some things you should know about us:
We have a solid background in structural engineering, so you won't hear from us that we cannot find the best solutions for your retaining walls;
Our architects are trained to create designs that incorporate their expertise and ideas, goals, budget, and project schedules into a balanced plan that serves your needs.
We work with industrial and commercial-grade equipment and tools and trained technicians.
In case you worry, we will leave a mess behind, don't! Our experts in landscaping in Windsor Heights, IA, can efficiently remove, and dispose of old/damaged materials, so your yard looks brand new after we finish installing the retaining walls.
All our work comes with backups and satisfaction guarantees – if you are not 100% happy with our results, we can call us back. We will redo the job for free, no questions asked!
What Else Should You Know about our Services for Landscaping in Windsor Heights, IA?
The first thing you should know is that we do not only build retaining walls when it comes to hardscape installations. Our landscaping services in Windsor Heights, IA, include pavers and edges, ponds and water features, patios, underground gutter spouts, landscape irrigation systems, and more.
In case you also need softscape elements on your property – as new landscape design or upgrade/restoration, we are here for you with plant and bush installations to spruce up your yard.
Do you need retaining walls and other lawn care and landscaping services in Windsor Heights, IA? Contact us for a free estimate!