Lawn Care in Windsor Heights, IA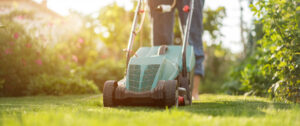 Spring and fall are the most challenging seasons for homeowners who want the best for their properties. Spring is tricky because you have to keep an eye on everything, from grasses that start covering the yard in a thick green carpet to trees and shrubs needing your full attention. Similarly, you have to pay attention to everything and prep the yard and the vegetation for winter in the fall. In between, summer poses its challenges, even on established lawns and landscapes. If you want to get rid of all the stress and pressures, we have a solution for you: our company's outstanding lawn care in Windsor Heights, IA!
What Spring and Fall Lawn Care in Windsor Heights, IA Do We Offer?
You should know that we are a full-service lawn care and landscaping company, offering services that cover the entire year – including winter. In other words, for anything you need, you should ask for a free estimate and discuss a schedule with our experts.
Back to spring and fall lawn care in Windsor Heights, IA, here are some of the activities we can take off your hands and perform at the highest industry standards:
Soil tests – especially in spring-understand your soil's needs for nutrients, pH balance, amendments, irrigation, etc.
Mowing (one time or year-long schedule)
Soil core aeration
Dethatching or power raking
Overseeding and sod installations
Tree and bush maintenance – trimming, pruning, shaping, etc.
Fertilization and weed control.
Pest control
Yard clean-ups
These activities are mandatory in spring and fall and complement all the other lawn maintenance services you need to consider to ensure a healthy, lush lawn.
What Else Can Our Lawn Care Company in Windsor Heights, IA Do for You?
As a one-stop-shop lawn care and lawn maintenance company in Windsor Heights, IA, we are ready to provide you with complex projects and services that include the following:
Landscape design and architecture
Lawn and landscape repairs and renovations whenever you want to fix a damaged lawn or improve the existing features of your yard
Irrigation installations maintenance
Regular landscape clean-ups and landscape maintenance seasonal services
Plant and bush installations
Snow removal and more
How Can You Get Our Lawn Care Services in Windsor Heights, IA?
For year-long lawn care in Windsor Heights, IA, or for one-time jobs, all you have to do is contact us for a free estimate! Our experts will provide you with guaranteed results! In case you are not totally happy with the results, we will redo the job for free, no hassle!