If you're a homeowner in Urbandale, particularly if you've just moved into your dream home, you might think landscaping is all about cutting the grass and shaping the bushes. However, Landscaping in Urbandale goes beyond that, offering meticulous and balanced installations of rocks and mulch, especially beneficial for expansive properties with varying sun and shade conditions.
You might think that rock installations are purely for visual appeal, but they offer more benefits than meets the eye. Likewise, mulch serves various functions in a single yard, requiring careful consideration of types, amounts, and application methods. Allow our Urbandale landscaping specialists to guide you through these intricate details.
What Makes Excel Lawn and Landscape the Best Choice for Rock and Mulch Installations in Urbandale?
Excel Lawn and Landscape has become a trusted name in Urbandale for all things related to landscaping. From conceptualizing landscape designs to maintaining lush gardens, our team is well-versed and equipped to make your outdoor space a slice of heaven.
When it comes to rock and mulch installations, we understand that rocks are an effective way to suppress weeds, giving your yard a clean, rustic, and professional appearance. Our Urbandale landscaping experts are also skilled in desert scaping and crafting outdoor art with rocks and minimalist vegetative and mineral elements.
Rock installations are particularly beneficial for yards that require minimal water but may not be suitable for sun-drenched areas due to heat accumulation. Conversely, mulch offers the soil essential protection against heat, weeds, and even pests. Inorganic mulches serve an aesthetic purpose, enhancing the color, contrast, and texture of your flower beds, vegetable gardens, trees, and more.
Beyond Landscaping in Urbandale: What Additional Services Does Excel Lawn and Landscape Offer in Urbandale, IA?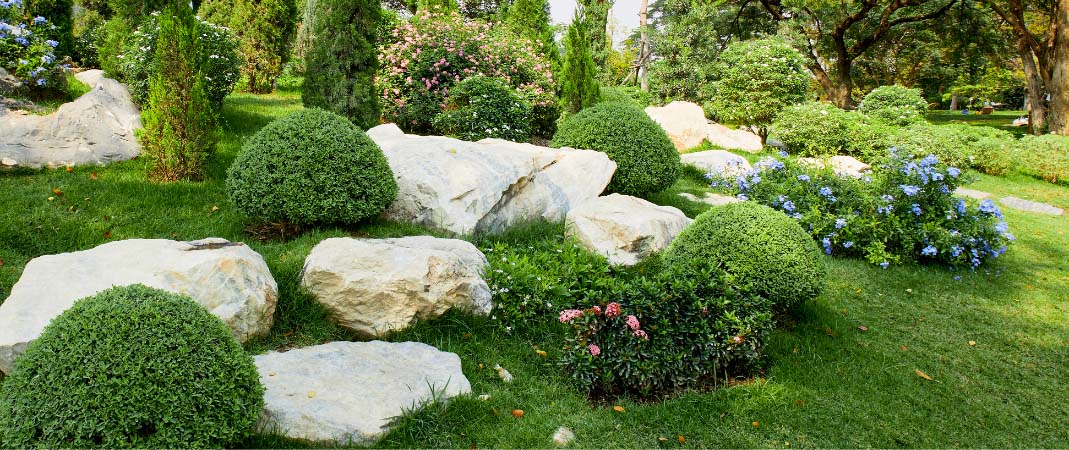 Excel Lawn and Landscape is proud to hold an A+ rating with the Better Business Bureau of Greater Iowa, along with numerous certifications that attest to our expertise. If you decide to partner with us, here are some other services you can avail:
Comprehensive landscape design and installations, featuring both hardscape (like patios, ponds, and retaining walls) and softscape elements (such as new plants, shrubs, and hedges).
Regular lawn care and upkeep as part of our Landscaping in Urbandale services.
Snow removal solutions
Services for fertilization, weed management, and pest eradication
Should you require our expertise for rock and mulch installations or any other Landscaping in Urbandale needs, don't hesitate to reach out for a complimentary estimate. We assure you of top-notch results!