Landscaping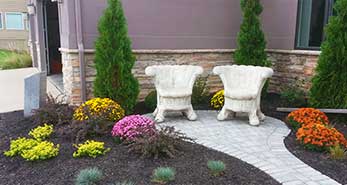 A lush and gorgeous landscape is a wish come true for many property owners who want to enjoy a small corner of paradise to call "home". But a beautiful, lush and healthy landscape requires hard work and many resources to be invested and sometimes the results do not meet the expectations. It's one thing to mow your lawn from time to time or trim some roses, and a whole other one to build hardscapes, introduce new structures and install irrigation systems. When it comes to landscape design and building in your area, we are happy to tell you that we are some of the best money can buy.
In our many years of landscaping we learned that many people became nervous or overwhelmed about the design process. After all, landscaping is a science just as much as it is an art – meaning that it requires professionals from start to finish. This is why we are your best people for making your ideas come alive.  We are trained and skilled to build you the space you want and always dreamed of to fit your lifestyle while avoiding costly mistakes. Are you interested in what we can do for you? Here is a short description of the landscaping services that turned us into some of the highest regarded landscapists on the market:
Pavers/Edging
Rock/mulch installations for beauty, functionality and protection
Retaining walls building for functionality, aesthetic value and comfort
Plant and bush installations to spice up the looks of your landscape; add color, contrast, texture, scent and movement (or to increase your property's curb appeal).
Patios building so that you benefit from your outdoors spaces in the most efficient and pleasing ways.
Underground Gutter Sprouts
Pond installations to turn your property into a modern, trendy and exquisite patch of paradise
Landscape repair/renovation whenever you want to revamp its looks or fix some issues.
All our landscaping services are tailored to meet not only your expectations when it comes to beauty and functionality, but also your property's specific features. We will first make an overall assessment understanding what you want and need. Secondly, we will throw in some of our landscape architects' and engineers' ideas and work together until we have a clear picture of what should be done.
Only after this stage we begin working on your landscape, always keeping in mind your property's strengths and vulnerabilities. We will build you generous patios for you to relax on or entertain guests, ponds to add beauty and a fun flair to the landscape, hardscapes to be of use to you and plenty of gorgeous vegetation for color, shadow, privacy and scent.
All our landscaping services are implemented by trained and skilled professionals who will take care of everything on your property all year long. We also offer desertscaping projects, irrigation installations maintenance, regular landscape clean-ups and landscape maintenance seasonal services. All you have to do is ask for a free estimate and have our professionals build you the landscape of your dreams!