Is your once lush and vibrant lawn showing signs of wear and tear? Has it lost its lushness and become patchy or thin? If so, our lawn overseeding service might be the rejuvenating solution you need. This comprehensive guide delves into the world of lawn overseeding—an essential service that can revive your lawn, enhancing its beauty, resilience, and health.
HOW DOES OVERSEEDING WORK?
The process of overseeding is influenced by the type of grass being seeded and the climate.
The best time for overseeding cool-season grasses is between late summer and early fall. In late spring, before the lawn begins its growth period, it is best to overseed warm-season grasses. In order for the seed to germinate, the soil temperature must be above 55 degrees Fahrenheit (or around 12 degrees Celsius).
Regardless of the type of grass, there are certain general rules that must be followed when overseeding.
It is important to mow your lawn before planting so that the seeds sink into the ground, instead of sitting on the lawn. We also recommend raking the soil to remove the stubble and enable the seeds to reach the soil with ease.
Your lawn will be overseeded with high-quality products by your Excel Lawns & Landscape professional.
EXPERTISE AND EXPERIENCE IN LAWN OVERSEEDING
When it comes to rejuvenating your lawn through overseeding, our unmatched expertise and years of experience set us apart. Our dedicated team understands that a vibrant, healthy lawn is more than just a visual delight – it's a testament to precision, knowledge, and a deep understanding of the intricate science behind successful overseeding. See our works here.
CHOOSE OUR LAWN OVERSEEDING SERVICE
Is your lawn in need of a revival? Do you dream of a lush, vibrant carpet of green that welcomes you home? Look no further – our premier lawn overseeding service is here to transform your lawn into a breathtaking landscape you'll be proud to showcase. Here's why choosing our service is the best decision for your lawn:
Tailored Solutions
No two lawns are the same, and we recognize that at our lawn overseeding service. Our approach is centered around a thorough evaluation of your lawn's unique characteristics, including soil quality, sun exposure, and existing grass types, to design a customized overseeding plan that suits your lawn's specific needs.
Premium Seed Selection
The key to a vibrant, healthy lawn starts with the right seeds. We meticulously select premium grass seed varieties that are well-suited to your region and lawn conditions. Our dedication to quality ensures that your new grass not only thrives but flourishes, creating a captivating visual impact.
Professional Equipment
Achieving consistent and even overseeding results requires specialized equipment. Our state-of-the-art machinery ensures uniform seed distribution, maximizing the chances of successful germination and lush growth. We take pride in our tools, which are designed to handle projects of all sizes with precision and efficiency.
Comprehensive Care
Our commitment to your lawn's well-being extends beyond the overseeding process. We provide you with a comprehensive post-overseeding care plan, guiding you through proper watering techniques, mowing schedules, and maintenance practices. This holistic approach guarantees that your new grass establishes strong roots and flourishes into a resilient, stunning lawn.
Stunning Results 
Imagine stepping onto a revitalized lawn that greets you with its breathtaking beauty. Our overseeding service delivers on that promise. The visual transformation is not only a treat for the eyes but a testament to the dedication we pour into every project. Your satisfaction is our ultimate reward.
Time and Cost Savings
Opting for our professional lawn overseeding service saves you time, effort, and potential frustration. We handle every aspect of the process, from assessing your lawn's needs to executing the overseeding with precision. Our streamlined approach ensures efficient results, sparing you the challenges of a DIY project.
Caring Customer Service
We believe in building lasting relationships with our clients. Our attentive and caring customer service ensures that your concerns are heard and addressed promptly. We're here to answer your questions, provide guidance, and ensure that your lawn's transformation is a seamless and enjoyable experience.
A Greener Future
Choosing our lawn overseeding service is not just an investment in your property's aesthetic appeal; it's a commitment to a greener future. A healthier lawn contributes to improved air quality, soil stability, and overall environmental well-being. By selecting our service, you're joining us in our mission to create sustainable outdoor spaces that enrich lives.
Your Lawn's New Beginning
When you choose our lawn overseeding service, you're embarking on a journey toward a revitalized, captivating lawn. Our team's passion for excellence, meticulous attention to detail, and unwavering commitment to your satisfaction set us apart. Experience the joy of a flourishing, vibrant lawn – contact us today to embark on your lawn's new beginning.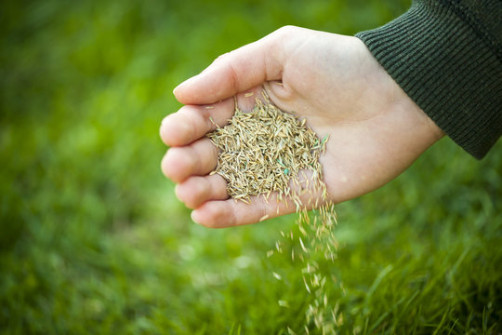 LAWN OVERSEEDING SERVICE
Achieve a lush, green lawn with our overseeding service.
Enhanced Grass Density and Thickness

Improved Resistance to Disease and Pest Infestations

Enhanced Drought Resistance and Water Efficiency

Filling Bare Spots and Patchy Areas

Overall Lawn Aesthetics and Curb Appeal
LAWN OVERSEEDING SERVICE FAQ
LAWN OVERSEEDING ARTICLES
Looking to learn more about lawn overseeding? Check out these great articles on that very subject.
Why Choose Excel Lawns and Landscape
Our Des Moines lawn care services can transform your lawn. Leave it to our team of experts.
Get In Touch Today
Reclaim your time and spend those nights and weekends doing what truly matters.
The crew at Excel worked on our front porch retaining wall. They did excellent work, were courteous, prompt in getting the job done, and even came out a few months later just to double-check the wall during cold weather. Thanks for all you did. I will definitely recommend your services.
Positive: Punctuality, Quality, Responsiveness, Value

I called and they actually answered the phone and it didn't go to voicemail. They came to see the job and gave me a fair quote and a date when they would be able to do it. The job was completed on time and I'm very happy with the work of the team.
Thank you so much for the quality workmanship you and your team provided to us over the past week or so. The work you did not only looks great but it also provided us with superior results. I appreciate your quality of work, your professionalism, and your very reasonable prices.
The recent ice storm had the sidewalks and driveway a sheet of ice. They came out twice to treat the areas. I was impressed with not only the work they performed but also that I did not have to call them to remind them. Rarely do I encounter from others the great service Excel provided. I am thrilled I hired them.
Positive: Professionalism, Punctuality, Quality, Responsiveness, Value

The team at Excel Lawn and Landscape performs lawn mowing and weed control currently. I have peace of mind knowing they take care of my yard and plan to have them help with the fence and landscape in the future. Thank you for helping me gain control of the creeping Charlie in my yard and restore my yard's curb appeal!