OUTDOOR SERVICES
Our company is specialized in offering a wide range of outdoor services covering your lawn and landscape service needs, including both design build and maintenance. All our projects are done in house with the help of skilled and trained professionals who will do everything in their power to meet and exceed your expectations.
When it comes to our outdoor services, we will take the time to get to know you and your space, in order to develop a full picture of your property needs. We will first ask questions about how you use your space and how you would like to use it in the future and after we are all clear on what you want, we will get to work.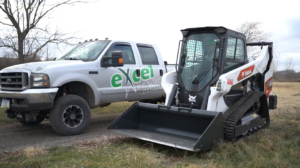 Below are some of the main outdoor services you can benefit from if you choose to work with us:
From early spring to late fall, we will make sure that your lawn receives the best care. You may love to mow or irrigate the lawn yourself, but lawn maintenance means way more than that. We built our reputation on providing our customers with a year-round lawn maintenance plan split in steps and stages. From core lawn aeration and overseeding to proper mowing according to the season and grass type, you can rest assured your lawn will be healthy and thriving all year long.
Our company is specialized in the design and building of lush landscapes from scratch. We are also able to revamp a dull landscape and add buzz and beauty to it, together with functionality and an increased curb appeal. Many times, people get nervous or overwhelmed about these outdoor services offering especially the design process, but it's a wonderful experience when you can make your ideas come alive.  This really helps you get the space you want, always dreamed of, and one that fits your lifestyle while avoiding costly mistakes. When it comes to hardscapes, why attempt it yourself when you have professional architects ready to offer you a veritable patch of Heaven?
Our lawn maintenance program includes both fertilization and weed control applications all year long, but it is safes to say that this is a completely different program. We base all our interventions on scientific discoveries and know-how – our year-long fertilization and weed control program is efficient and effictive, using healthy and safe tailored products, that are eco-friendly and reliable. From early spring to late autumn, we will make sure your yard or garden are free from weeds and all our pre- and post-emergent treatments comply with the environmental requirements of the State of Iowa.
Don't for a second think that our team isn't available to tend to your property during winter. On the contrary, we are ready, willing, and trained to offer expert snow removal services to keep your property free of snow and frost. We use the latest equipment and vehicles and all our deicing treatments are safe for your hardscapes and soil. Our snow removal service makes sure your property is well taken care of with no effort and minimizes risks.
Why endanger your wellbeing by trying to decorate your home and yard for Christmas (or remove the decorations and store then afterwards)? Let our expert designers turn your home into the envy-centric property in the entire neighborhood! We can both decorate your house and remove the Christmas lights after the holidays in a professional and safe manner. All you have to do is sit back and enjoy the holidays together with friends and family while our specialists make sure everything is done with proficiency.
No matter what outdoor services you require, you can rest assured that our company will meet and exceed your expectations no matter how small or big your project is. Give us a call and ask for a free estimate now for which ever outdoor services you require, you won't regret anything!