Is your once lush and vibrant lawn starting to lose its vitality? Does it seem like no matter how much you water and fertilize, your grass still looks lackluster? If so, your lawn may be suffering from compacted soil, hindering its ability to absorb water, nutrients, and breathe. The solution? Lawn aeration! We'll dive into the benefits of aeration and how our professional lawn aeration service can breathe new life into your precious green space.
UNDERSTANDING AERATION
Lawn aeration is a simple yet highly effective process that involves perforating the soil with small holes, or plugs, to relieve compaction and create channels for essential nutrients, and water to reach the lawn's root system. The soil and subsoils become compacted over time due to factors like foot traffic while enjoying the outdoor space, machinery during normal landscaping and home repairs or just natural settling over time, the root system of the grass can struggle to access crucial resources for optimal growth. Aeration is like moving up a pant size and allowing your lawn room to breathe, revitalizing it from the ground up.
WHY CHOOSE OUR LAWN AERATION SERVICE
At Excel Lawns & Landscape, we take lawn care and your lawn seriously, and our professional lawn aeration service is no exception. Our team of skilled lawn care pros are equipped with state-of-the-art aeration equipment to ensure thorough and precise aeration of your lawn. We carefully assess your lawn's specific needs and layout, considering factors like grass type, soil compaction density, location of irrigation heads and mainlines, and drainage tile location for gutters or French drains, to tailor our aeration process for optimal results while minimizing damage due to lack of care. See our work.
EXPERIENCE AND EXPERTISE – Our team of lawn care professionals have years of experience providing a top-notch lawn aeration service. We are well-versed in the best practices and techniques to optimize the health of your lawn.
STATE-OF-THE-ART EQUIPMENT – We use advanced aeration equipment from stand-on units to walk-behinds for those hard-to-reach areas. Ensuring efficient and effective results year after year. Our specialized equipment creates precise lawn aeration holes without causing damage to your existing turf.3.
CONVENIENCE AND PEACE OF MIND – Leave the hard work to us. Our lawn aeration service saves you time and effort, and you can relax knowing that your lawn is in the hands of professionals who care about the lawn as much as you do.
TIMELY SERVICE – Timing is everything when it comes to lawn aeration. Our team is well-versed in looking for those ideal windows to complete your lawn aeration for various grass types prevalent in Des Moines Metro. Whether your lawn boasts cool-season sun or a shady mix, we know precisely when and how to perform aeration to ensure optimal results.
CUSTOMER SATISFACTION GUARANTEED – At Excel Lawns & Landscape, we prioritize customer satisfaction above all else, especially with our lawn aeration service. We strive to deliver a lawn that exceeds your expectations. Our friendly and professional team is always ready to address any questions or concerns you may have and provide ongoing support to keep your lawn thriving long after our lawn aeration.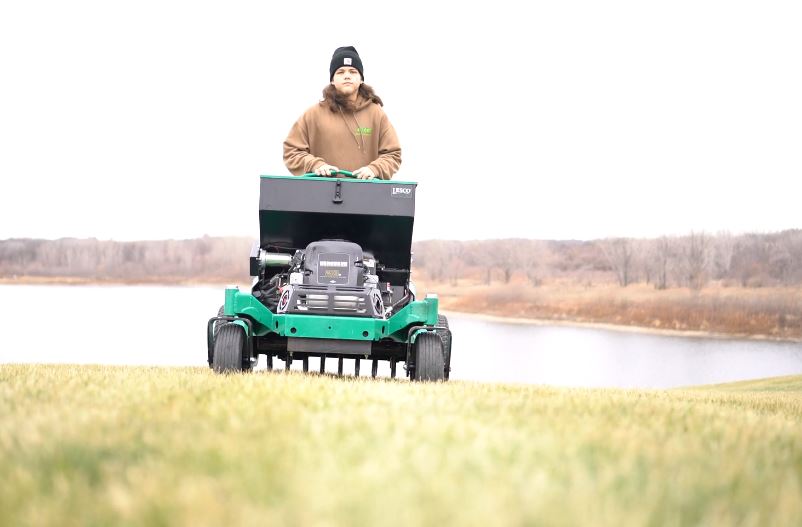 LAWN AERATION SERVICE
Enhanced Water Absorption

Optimized Nutrient Uptake

Promotes Deeper Root Growth

Reduces Thatch Buildup
LAWN AERATION SERVICE FAQ
You have questions, we have answers. Below are the top questions we get about our Des Moines aeration services.
LAWN AERATION ARTICLES
Looking to learn more about lawn aeration. Check out these great articles on that very subject.
Why Choose Excel Lawns and Landscape
Our Des Moines lawn care services can transform your outdoor space into something beautiful and functional.
Get In Touch Today
Reclaim your time and spend those nights and weekends doing what truly matters.
The recent ice storm had the sidewalks and driveway a sheet of ice. They came out twice to treat the areas. I was impressed with not only the work they performed but also that I did not have to call them to remind them. Rarely do I encounter from others the great service Excel provided. I am thrilled I hired them.
Positive: Professionalism, Punctuality, Quality, Responsiveness, Value

The team at Excel Lawn and Landscape performs lawn mowing and weed control currently. I have peace of mind knowing they take care of my yard and plan to have them help with the fence and landscape in the future. Thank you for helping me gain control of the creeping Charlie in my yard and restore my yard's curb appeal!
Thank you so much for the quality workmanship you and your team provided to us over the past week or so. The work you did not only looks great but it also provided us with superior results. I appreciate your quality of work, your professionalism, and your very reasonable prices.
Positive: Punctuality, Quality, Responsiveness, Value

I called and they actually answered the phone and it didn't go to voicemail. They came to see the job and gave me a fair quote and a date when they would be able to do it. The job was completed on time and I'm very happy with the work of the team.
The crew at Excel worked on our front porch retaining wall. They did excellent work, were courteous, prompt in getting the job done, and even came out a few months later just to double-check the wall during cold weather. Thanks for all you did. I will definitely recommend your services.