Lawn Maintenance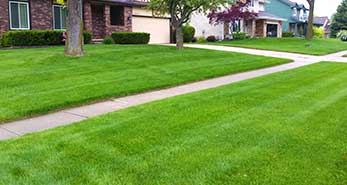 While it may be fun and relaxing to mow your own lawn on a weekly basis, lawn care and maintenance include a wider range of activities that consume homeowners' time and resources. While it sounds simple at first, year-round lawn maintenance requires more than having a green thumb. Our company is an expert lawn maintenance provider since 2010 and we are glad to have become one of the highest ranking green companies in our area.
We can offer you a one-time service in case you need immediate solving of a certain lawn problem or we can implement a year-long maintenance program to cover your property's needs. Our main goal is that you have a green, lush and thriving patch of paradise to enjoy every single day, this is why our services cover everything from early spring to late fall.
We work only with skilled and certified professionals and the latest tools and equipment to offer you above-standard services at the most affordable prices. This is what we can offer:
Mowing (one time or year-long schedule)
Soil aeration in spring or fall
Dethatching or power-raking in spring or fall
Seeding or sod installations
Concrete edging
Regular yard clean-ups
Tree and bush maintenance
Perimeter pest control
Bed pre-emergent weed control
Mole and pest control
A large variety of chemical applications
This wide range of services is tailored to suit your property's needs and thriving potential. We know that no two lawns are alike and we treat each property in a personalized manner to ensure its proper development. We perform soil tests and we thoroughly asses the situation understanding your needs and wishes when it comes to lawn care. Only after we agree together what needs to be done, we proceed to the implementation of services.
Everything on your property is connected and everything thrives in full interdependence with the other natural or man-made elements. This is why our procedures are tailored to meet the soil's pH and its fertilization needs, the local weather conditions and general environmental ones and your particular wishes when it comes to the looks and functionality of your property.
Our employees are licensed and certified to cover such services – they are proficient in horticulture, agriculture, and pest / weed control, chemical applications, engineering and landscape architecture. No matter how large or small your property is, they will make sure the soil, the grasses, the vegetation and the micro-ecosystem living on your property are perfectly taken care of.
Don't engage in any more trial-and-miss experiments with your lawn and don't waste time, money and effort! We will personally guarantee you that our lawn maintenance services will meet and exceed your expectations! Give us a call and ask for a free estimate, we will be more than happy to offer you an evaluation and year-round services at the highest quality on the market!