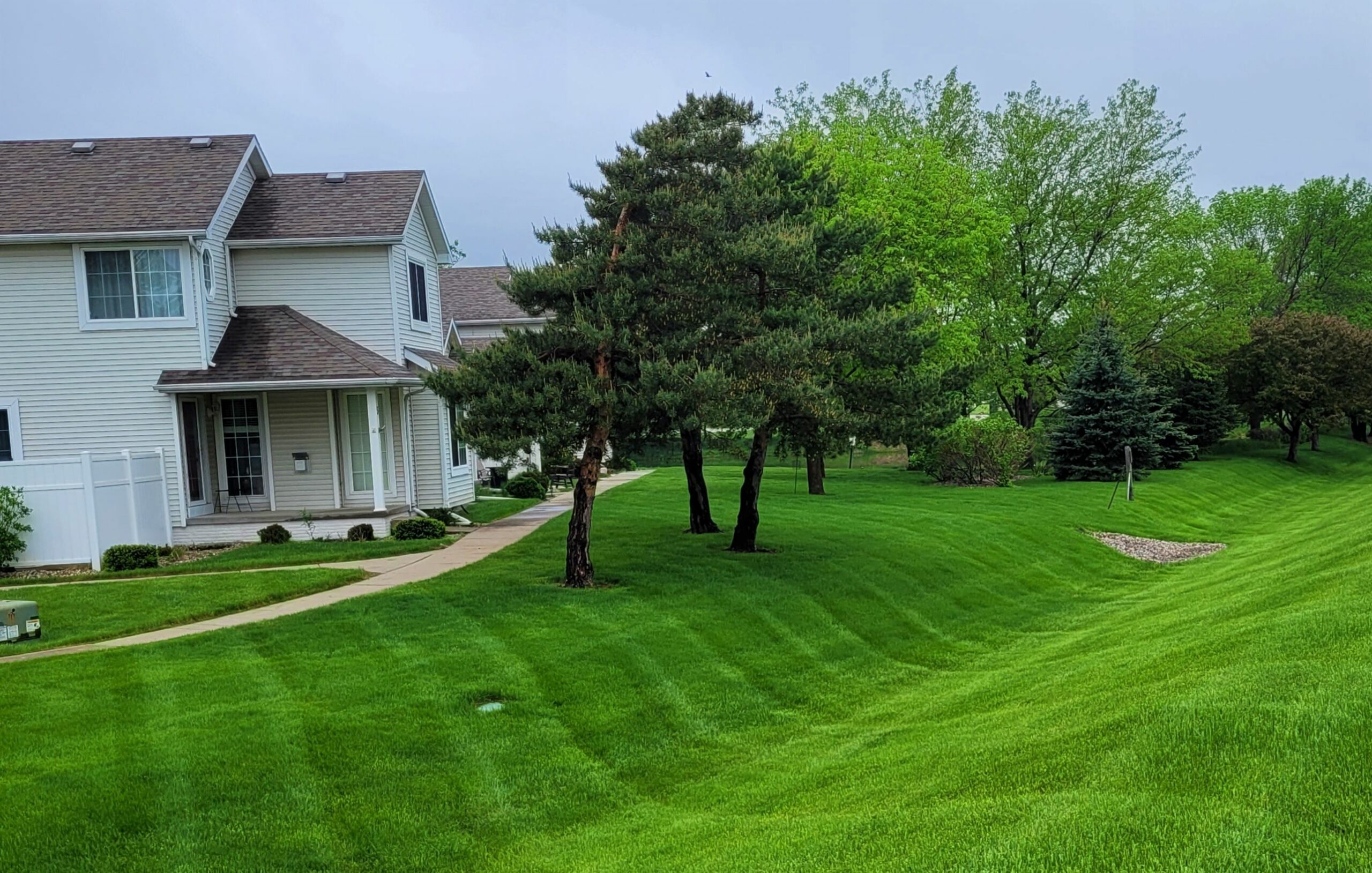 LAWN CARE SERVICES
Looking for Des Moines lawn care services? We've got you covered.
Mowing (one time or full season)

Soil aeration in spring or fall

Dethatching or power-raking in spring or fall

Seeding or sod installations

Concrete edging

Regular yard clean-ups in spring and fall

Mole and pest control

Leaf removal
Lawn Care Service FAQ
While it may be fun, and good exercise for some to mow their own lawn, lawn care can include a wide range of activities that consume homeowners' time and resources. While it sounds simple at first, year-round lawn care requires more than having a green thumb. We offer a wide range of lawn care services to the Des Moines area.
Excel Lawns & Landscape has been an expert in lawn care services since 2010. Each year we strive to further our ability not only to be one of the highest-ranking lawn care services in the Des Moines area and be the local authority when it comes to lawn care and landscaping services.
LAWN CARE SERVICE OPTIONS
We can offer a wide arrange of lawn care services for our customers. Whether you need a one-time service in cases of the immediate need to solve that pesky lawn issue, or we can implement a year-long lawn maintenance program to cover all your property's needs. Our main goal is that you have a property that works for your family and current needs. If you are looking for that green, lush, and thriving patch of paradise to enjoy every single day or just more grass so the pups aren't as muddy in the spring. Our services can offer what you're hoping to achieve; covering everything from early spring to late fall.
Our team is passionate about providing the very best lawn care service for our clients. No matter how large or small your property is, they will make sure the soil, the grasses, the vegetation, and the micro-ecosystem living on your property are well taken care of. So, if you are looking for a group of skilled and certified horticulture professionals with a vast knowledge of the latest tech and equipment to offer you above-standard services at affordable prices.
DESIGNED TO YOUR NEEDS
With such a wide range of services, we can tailor programs to suit you and your property's needs to reach its thriving potential. We know that no two lawns are alike, and we treat each property in a personalized manner to ensure it is moving in a position forward direction. If you're tired of doing the same thing every year we can perform soil testing, through the University of Minnesota, to thoroughly assess the soil chemistry to gain an understanding of your property needs. Then match that data with your idea of what a yard should be. Only after we agree together what needs to be done, we will proceed to implement those services.
Do not waste your time in any more trial-and-miss experiments with your lawn and don't waste time, money, and effort! We will personally guarantee you that our lawn maintenance services will meet and exceed your expectations! If you live in the Des Moines area, give us a call and ask for a free proposal, we will be more than happy to offer you an evaluation and year-round services of the highest quality on the market!
Why Choose Excel Lawns and Landscape
Our Des Moines lawn care services can transform your outdoor space into something beautiful and functional.
Get In Touch Today
Reclaim your time and spend those nights and weekends doing what truly matters.
The recent ice storm had the sidewalks and driveway a sheet of ice. They came out twice to treat the areas. I was impressed with not only the work they performed but also that I did not have to call them to remind them. Rarely do I encounter from others the great service Excel provided. I am thrilled I hired them.
Thank you so much for the quality workmanship you and your team provided to us over the past week or so. The work you did not only looks great but it also provided us with superior results. I appreciate your quality of work, your professionalism, and your very reasonable prices.
The crew at Excel worked on our front porch retaining wall. They did excellent work, were courteous, prompt in getting the job done, and even came out a few months later just to double-check the wall during cold weather. Thanks for all you did. I will definitely recommend your services.